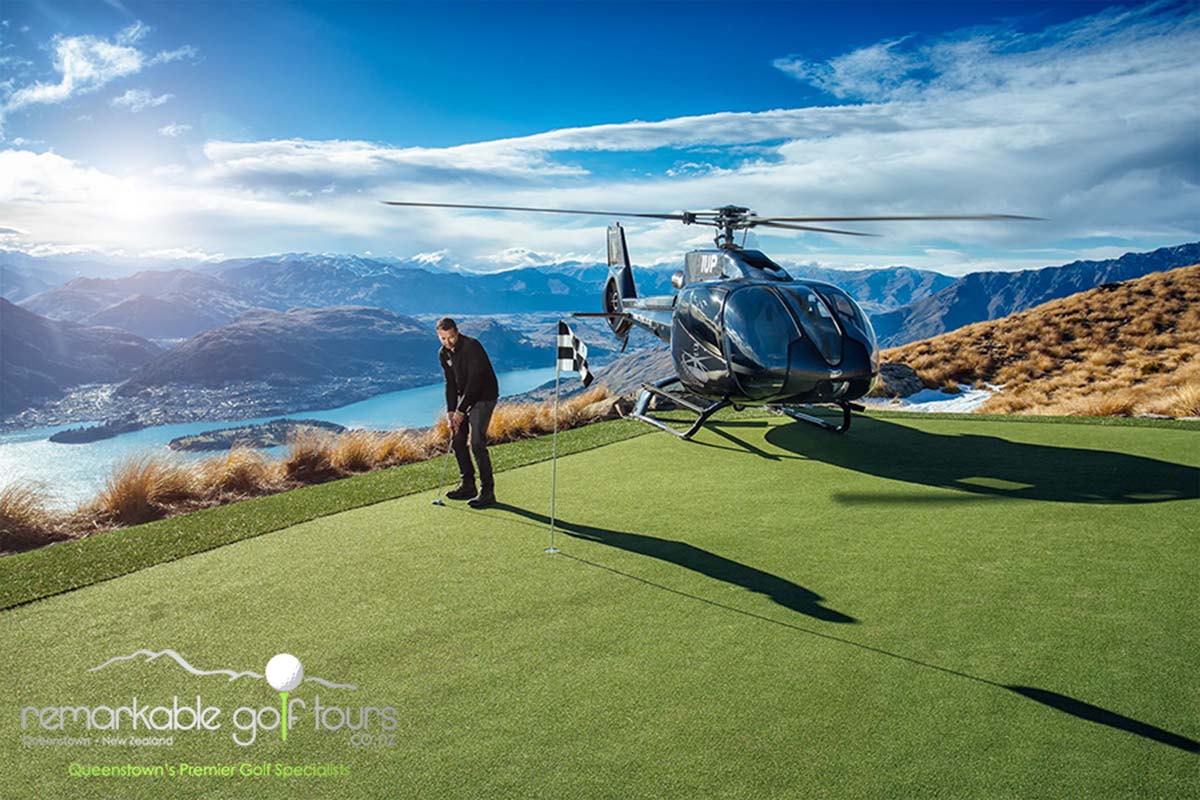 16 Oct

Golfing in Queenstown | Scenery, terrain, art & HELICPOTERS
Golfing in Queenstown
In many shades of green
To those who don't play much, golf is golf right? A golf course has holes, pins, sand traps and greens and sometimes water hazards.
But when are golf courses not just 'golf courses'?
In Queenstown, golf courses aren't just golf courses. Sure, they have all of the above prerequisites, bar Arrowtown Golf Club's complete lack of bunkering in favour of natural rock hazards. They're natural artworks when you have scenery and surroundings such as the golf courses in Queenstown. Queenstown Golf Club would rival any park in the world for scenery, certainly any golf course. 360 views of lake and mountains and situated on one of the most desirable peninsulas in New Zealand, Queenstown Golf Club does well to fend off developers and retain it's status as a visitor-friendly golf course.
Arrowtown golf course couldn't be replicated by man or the great creator himself alone, with the rustic mining village remains and natural rock features defining this unusual and slightly quirky (yet thoroughly memorable) golf course. Millbrook Resort has surroundings reminiscent of the Canadian Rockies and would feature in many golfers list of most serene golf course settings.
The Hills private golf club is a piece of golfing artwork. The course meanders through 500 acres of former dear farm and is natural in appearance but features dozens of exclusive pieces of art that Sir Michael Hill has collected. They rarely come into play unless the golf strays well off the beaten path but add a unique and interesting twist to this golfing experience and award-winning clubhouse facility that is absolutely unique. Jacks Point Golf Course, carved out of natural terrain at the foot of the Remarkables, on the edge of Lake Wakatipu, is truly one of the great golf courses in New Zealand. The scenery alone is worth the green fee, but the course design is thoughtful, challenging without being brutal and just offers something so different to the norm that's its guaranteed to leave a lasting impression, particularly on better players.
The latest in 'out of the box' golf design would have to be Over The Top Golf. This hole, situated at 4500ft above sea level offers four tee spots of varying lengths and overlooks the Wakatipu Basin, mountains and Jacks Point and would have to take the title of the most unique golf course in New Zealand. Players are helicoptered to Cecil Peak where they're set upon this golf hole to get closest to the pin. New Zealand's Prime Minister John Key has even had a round, Lydia Ko the teen sensation and current ladies world #1 has had a par and golfing travellers are lining up to see what happens when you crush a drive at 4500ft.
There is nowhere else in New Zealand with a collection of golf courses that aren't just 'golf courses' like Queenstown. Add some of the best vineyards, restaurants, scenery and outdoor activities in NZ and you have a golf destination that just has to be experienced.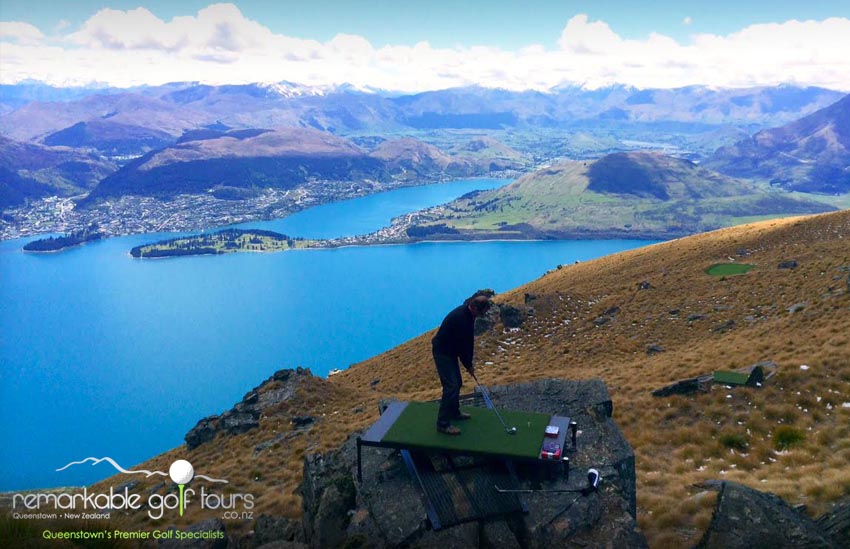 The most unique "golf course" in New Zealand – Over The Top Golf, accessed via Helicopter & overlooking Queenstown.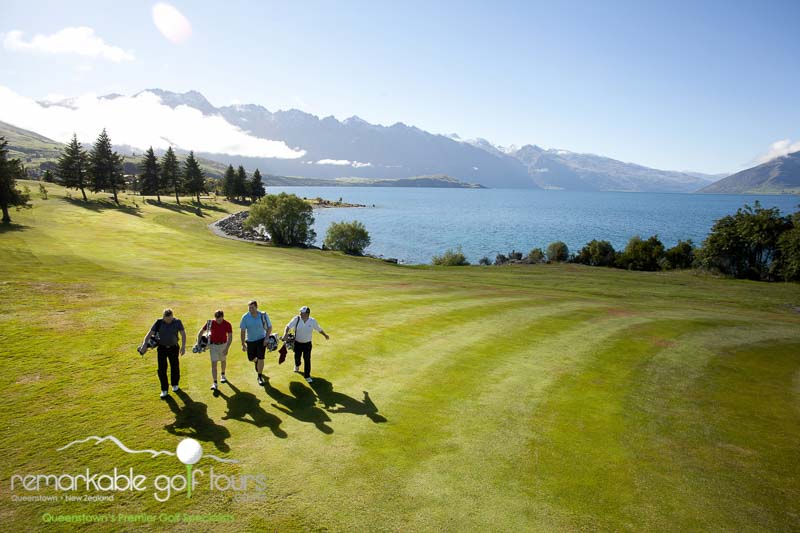 Views from Queenstown Golf Club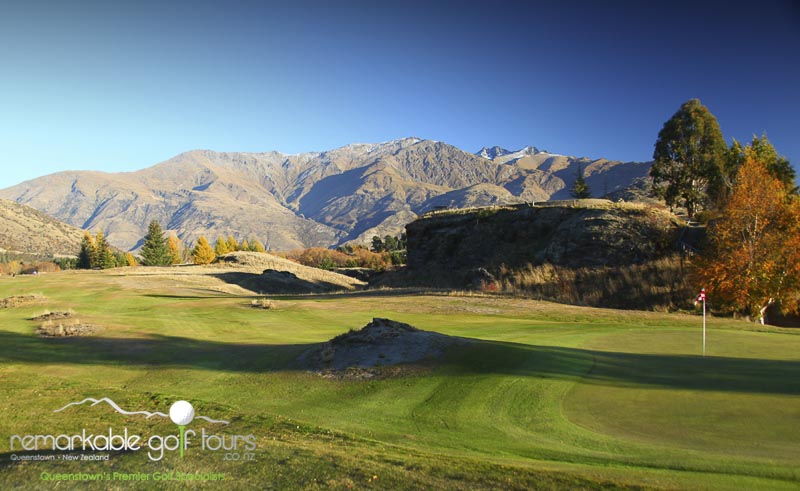 Natural Rock Features of Arrowtown golf club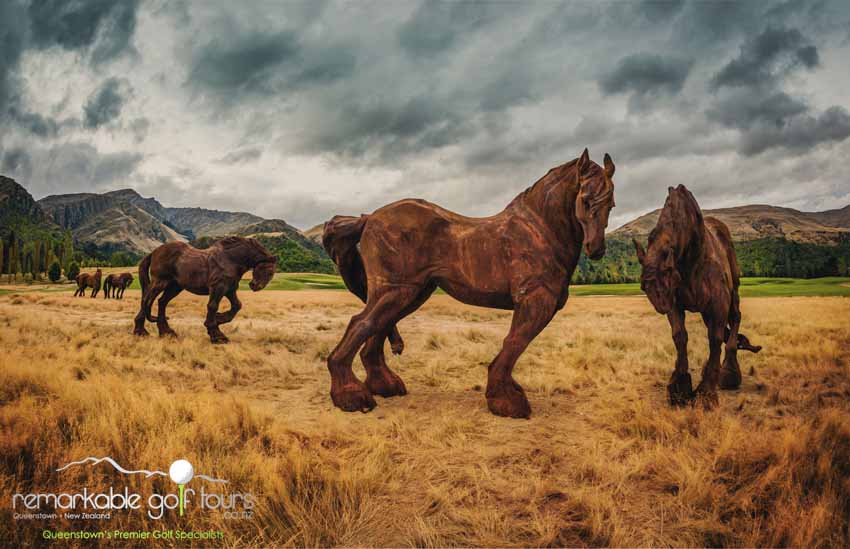 Artwork at The Hills Private Golf club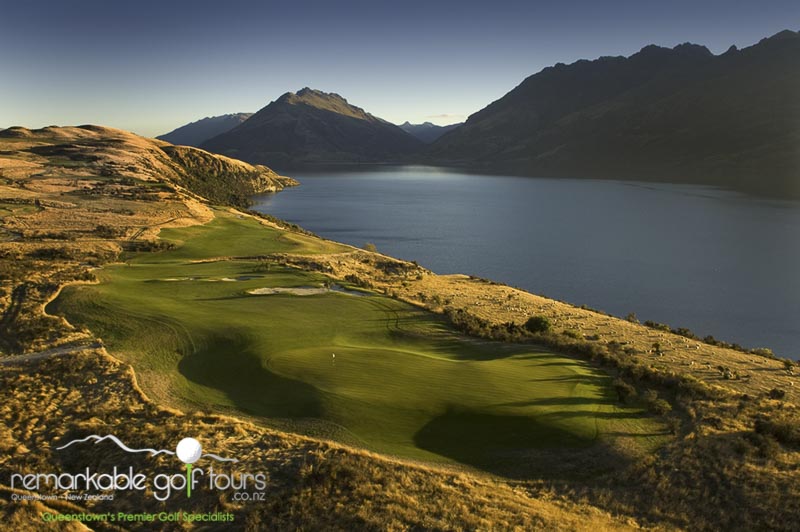 Scenery worth the green feed at Jack's Point